What is Zen?
Zen is the creativity prior to thought
new responsive in the moment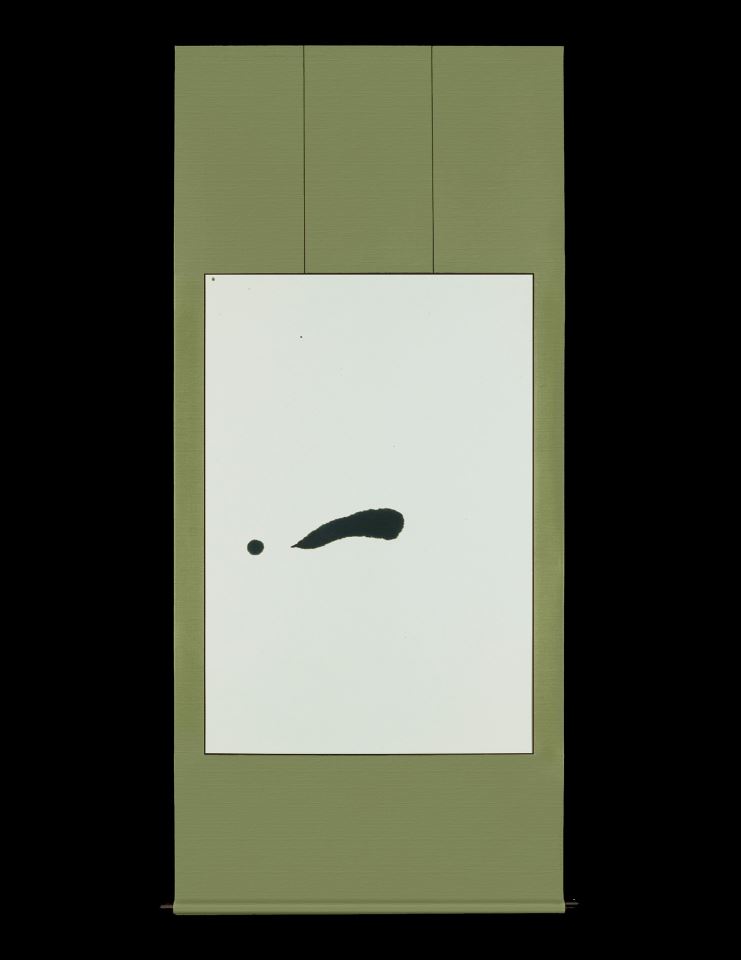 JUST THIS! JUST THIS!
Artist: Alok Hsu Kwang-han
Exhibition Demo, "Significant Image Calligraphy of Alok Hsu Kwang-han"
Shanghai, China 2000
China Ink on xuan paper: 60.5 cm X 92.4 cm; scroll: 72.4 cm X 167.6 cm
I listened to Aivi's reading the following poem by Ryokan:
(trans: Daniel Ladinkskty)
First day of Spring—the sky
is bright blue, the sun huge and warm.
Everything's turning green.
Carrying my monk's bowl, I walk to the village
to beg for my daily meal.
The children spot me at the temple gate
and happily crowd around,
Dragging at my arms till I stop.
I put my bowl on a white rock,
hang my bag on a branch.
First we braid grasses and play tug-of-war.
Then we take turns singing and keeping a kick-ball in the air:
I kick the ball and they sing, they kick and I sing.
Time is forgotten, the hours fly.
People passing by point at me and laugh:
"Why are you acting like such a fool?"
I nod my head and don't answer.
I could say something, but why?
Do you want to know what's in my heart?
From the beginning of time:
"Just This! Just This!"
I heard the poem, looked at the brushes. The strong energy brush "Tiger Claw" called to me. I loaded it with ink and water. Just as I was bringing the brush over the xuan paper, the head of the brush falls off!
I picked up the head of the brush, brought it over the paper,
it touched down in two places, "Just this!Just this!"
What is Zen?
Having declared, "Zen is the creativity prior to thought,
new responsive. in the moment"
we welcome this our Zen statement to be broken!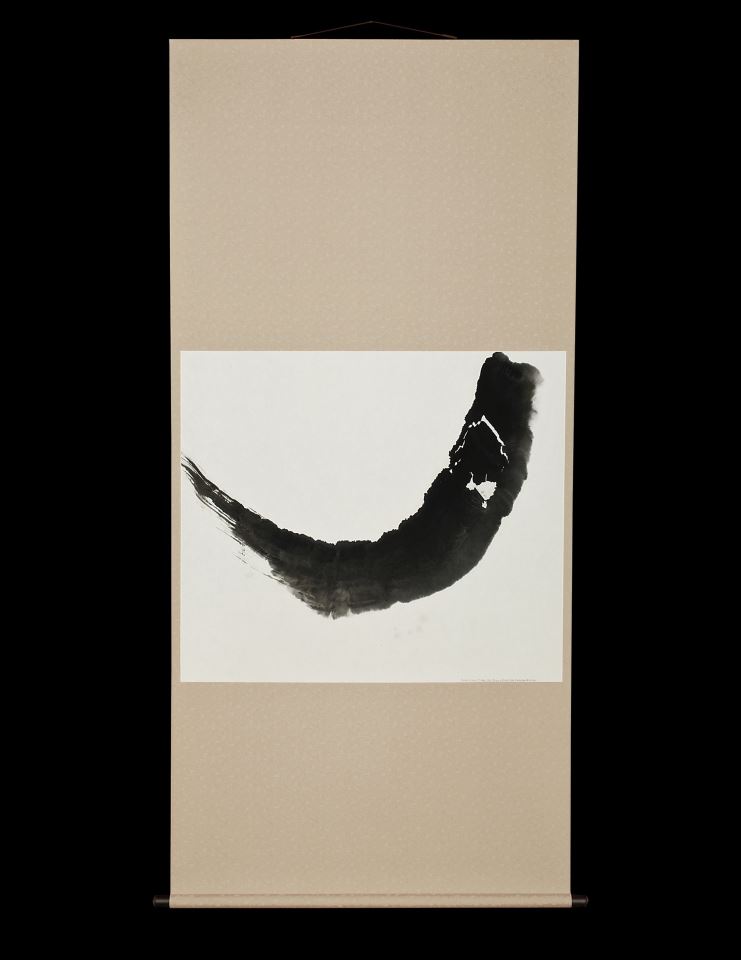 Artist: Alok Hsu Kwang-han
Pacific Zen Institute Winter Retreat, Santa Rosa, CA Jan. 10, 2010
China ink on xuan paper: 69.3 cm X 79 cm
scroll: 83.3 cm X 181.7 cm
Why? So that we may relax with not-know, tumble through, and return to the "emptiness" that lies beneath all our forms, like the eternal whiteness of the paper.
Here awaits us the vast potential and possibility of life and death and beyond,
if there is a beyond. Do we have the courage, freedom and trust to play Zen?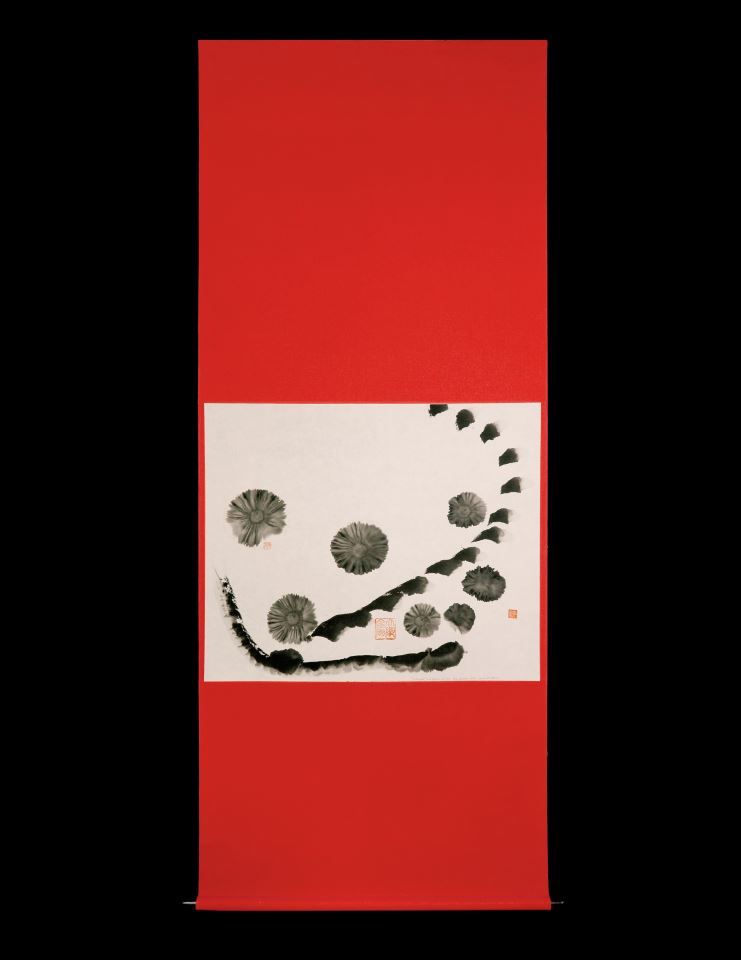 CELEBRATE EVERYTHING
Artist: Alok Hsu Kwang-han
with Kabir on the Indian Flute
Gallery at 910, Denver, CO, Sept. 9, 2007
Seals from left to right:
"Smile of the Buddha"
"The Great Joy of Cutting Through Illusions"
"Love Emptiness"
China ink on xuan paper: 61 cm X 49.5 cm; scroll: 64 cm X 155.2 cm
Kabir, my old friend from India, who teaches Indian music at Naropa University in Boulder, Colorado, came to play with me at the opening of my exhibition in Denver. Since we both spent years in Pune, India, with our spiritual master, Osho, we thought let's take one of his key teachings, "Celebrate Everything!" to be the theme of our "performance" together.
Kabir began slowing with a raga. I listened and swayed. Then the brushes one after another began to move in a duet with the flute. The painting was complex as the raga was complex; both took a long time to finish. When it was complete, we both knew it and lay down our instruments.
Before the performance of music and painting began, by intuition, Kabir chose the seal, "Smile of the Buddha." A young girl among the guests chose the big, beautiful antique seal, "The Great Joy of Cutting Through Illusions." And I chose "Love Emptiness." They all turn out to speak to the theme, "Celebrate Everything!"
When we can celebrate everything, that's real celebration!