Morning Heart in the Middle East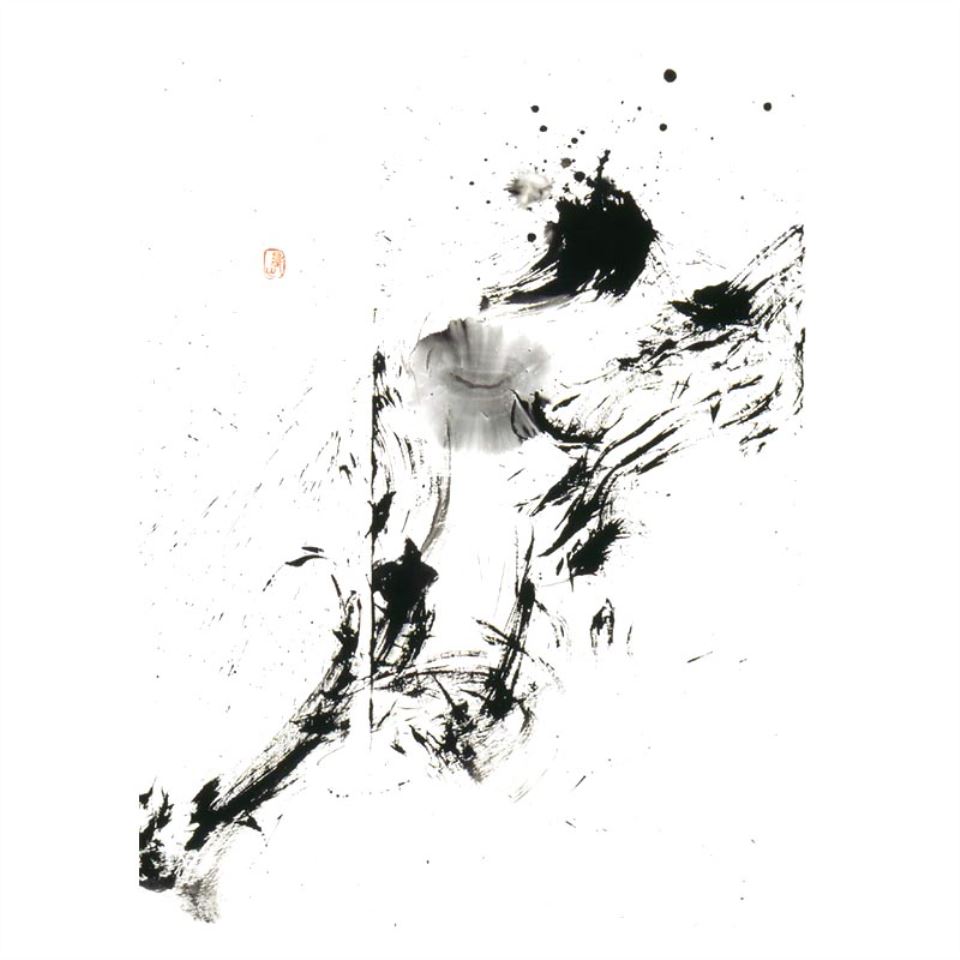 Wadi Rum Desert, Jordan, Jan. 7, 2006
Seal: "Morning Heart"
China ink on xuan paper: 50 cm X 68.5 cm
Scroll: 61.3cm X 160.5 cm
Breaking the Ice, a non-profit organization in Berlin, invited me to Jordan to be the "spiritual elder" to a group of Israeli and Islamic individuals preparing to go through the Sahara Desert together as an experiment in making peace. I left my personal spiritual journey in India to join them in Jordan.
The morning of day three into the training camp in the Wadi Rum Desert, I asked the group to gather together for a Zen painting.
We set up my painting table on top a sand jetty nestled in a horse-shoe shape of hills on three sides and overlooking the vast desert. The sun was shinning. There was a soft breeze.
I rang my Tibetan bells to call us back to silence. Looking around at each person, immediately I felt the energy to paint was welling up. "We will begin with a painting," I said simply, not the usual way I'd ease in with a group.
I unfurled a piece of xuan paper that felt appropriate, noticed the painting wanted to be taller than wide, and noted there was a vertical crimp on the left, the more vulnerable female side of the paper. I used 4 stone seals as paper weights on the corners.
With one qigong movement of my body I returned to an "emptiness" that is present and available, playful and not-knowing.
I looked at the brushes. The large brush made with rooster feathers called to me. I loaded it with much ink and water and brought it to the paper. A rough and violent movement of the brush suddenly swooped downward onto the paper and then suddenly upward. The energy was so explosive, it nearly knocked the brush out of my hand.
I waited. Then the brush of innocence made with human baby hair came forth and made a small, gentle horizontal curved line toward the top of the painting. I kept on adding water to this small line, as if repeatedly nurturing it, and it grew and glowed as if into a smile.
All of a sudden, like a kid, Sheikh Taha from Palestine pointed to the stone seals on my painting table and asked, "What are these?" "Choose one," I said. He did. I took up the seal, meshed it into the red seal mud, then, with intention and strength, pressed the seal onto the painting. "The seal says, 'Chen Xin' which in Chinese means 'Morning Heart.' Now the painting is complete, 'Morning Heart in the Middle East!'"